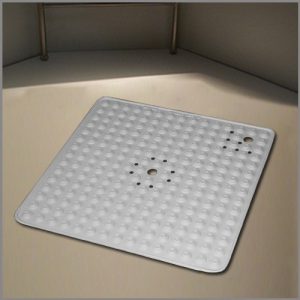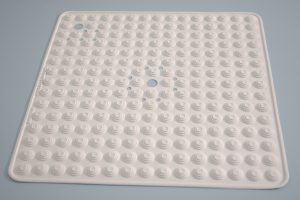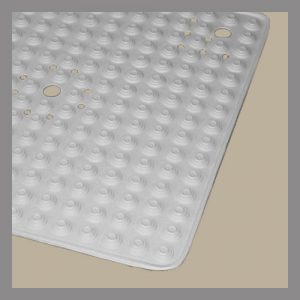 If you have a shower that has been recently refinished or re-glazed, this elegant Italian made anti-slip shower mat with no suction cups assures maximum non-slip footing while enhancing your bathroom.
Regular suction shower mats with suction cups will damage your surface but this no suction cup shower mat will not. Its inverted module design assures guaranteed non-slip footing with no suction cups. It is made from the finest of material that will enhance and protect your shower for years to come. It has a history of lasting up to 15 years.
Shower mats with no suction cups are very hard to find. Save yourself another expensive re-glazing cost by ordering yours today.
Features:
The basic design with inverted modules makes the non-slip safety possible.

Size: 23.5″ X 23.5″

Central and lateral holes for water drainage.

High grade flexible PVC material

Easy to clean. Machine washable

Anti-mold

Resistant to dirt, fading and flaking
We ship all bath mats priority mail delivery no later than the next business day. Order yours today by clicking here or click on the shop tab above.