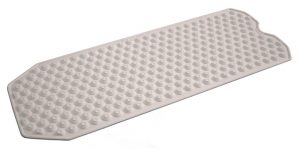 No Suction Cup Bath Mat
Made in Italy – Safe for All Ages – Bath Mat for Refinished Tub ©
Many people choose to have their bath tub or shower refinished or re-glazed instead of the expense of tearing out and installing new.  The problem they face is that refinished bath tub cannot use a bath mat with suction cups.  
This type is a no suction cup bath mat. It is specifically designed for refinished or reglazed bath tubs. It will provide guaranteed non-slip protection without damaging your bathtub.
It will not start fraying or falling apart like the bath mats being sold that are made in China. It has a history of lasting up to 15 years.
They are imported from Italy and are made with the finest materials and detail. This type of bath tub mat that has no suction cups;
Features:
41 inches long  15.75 inches wide

The basic design with inverted modules makes the non-slip safety possible.

High grade flexible PVC material

Easy to clean. Machine washable

Anti-mold

Resistant to dirt, fading and flaking
We ship all bath mats Priority Mail delivery no later than the next business day.
Order yours today. Just click here or click on the "Shop" tab above.